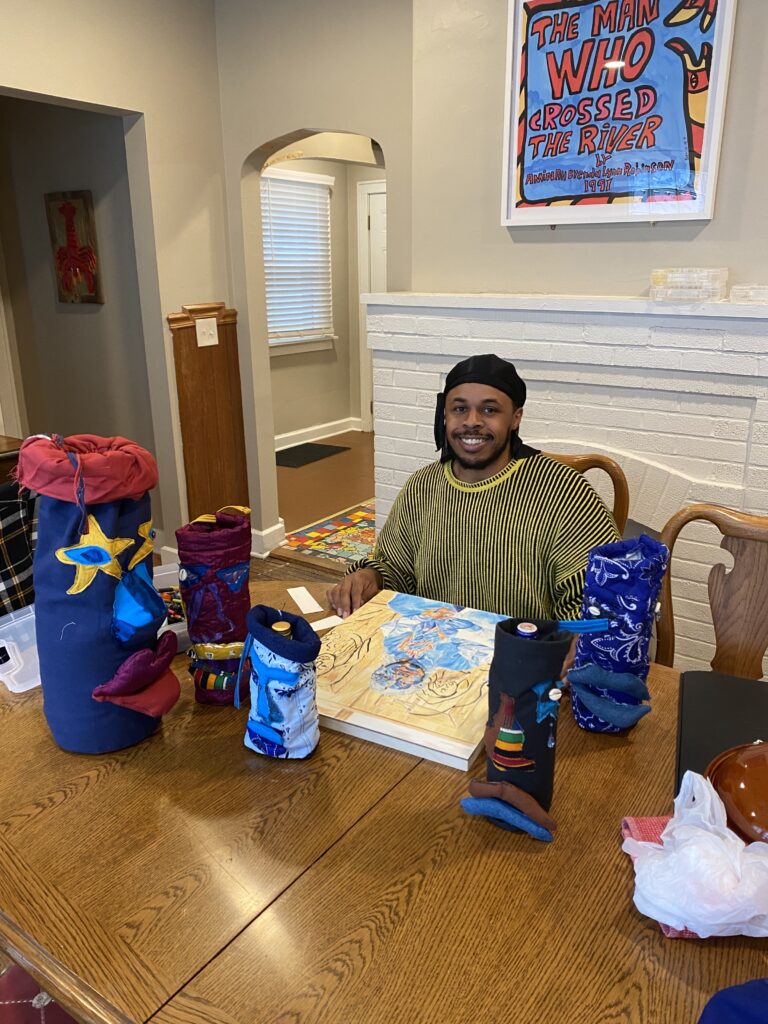 In August of 2022, The Columbus Museum of Art (CMA) awarded the Aminah Brenda Lynn Robinson Artist Residency to Anthony Peyton Young, a Boston-based artist who specializes in drawing, bleaching, ceramics and collage. Since then, Young has been hard at work in the home of the late Aminah Robinson. For the young artist, this experience has been a challenge and blessing he will never forget.
The residency program, founded in the name of Robinson's legacy at the Columbus Museum of Art and generously supported by Greater Columbus Arts Council and CoverMyMeds, supports African American visual artists, writers, and scholars from across the country. Young's work, like Robinson's, is founded on the meaning embedded within materials. To him, the residency has been a chance to push his use of materials and try something completely different.
Known for his multimedia work involving painting, drawing, bleaching, ceramics and collage, Young's work tells stories of the black experience. He addresses themes of Black Americana, identity, ancestry and community.
One of the many products of Young's 90-day residency is a series of head jugs. Head jugs originated from enslaved African Americans who used them for warding off spirits, pickling, and grave marking. In Young's work, head jugs represent vessels of healing and are a callback to their extensive cultural past.
Using fabrics from Robinson's own personal collection, these cloth head jugs are an extension of his original ceramic project. Made to store alcohol popularized in Black and Brown communities, they represent the brown paper bag often used to cover bottles. Working with textiles, as well as learning how to sew, has been a challenge for Young and an opportunity to explore new artistic limits outside of his comfort zone.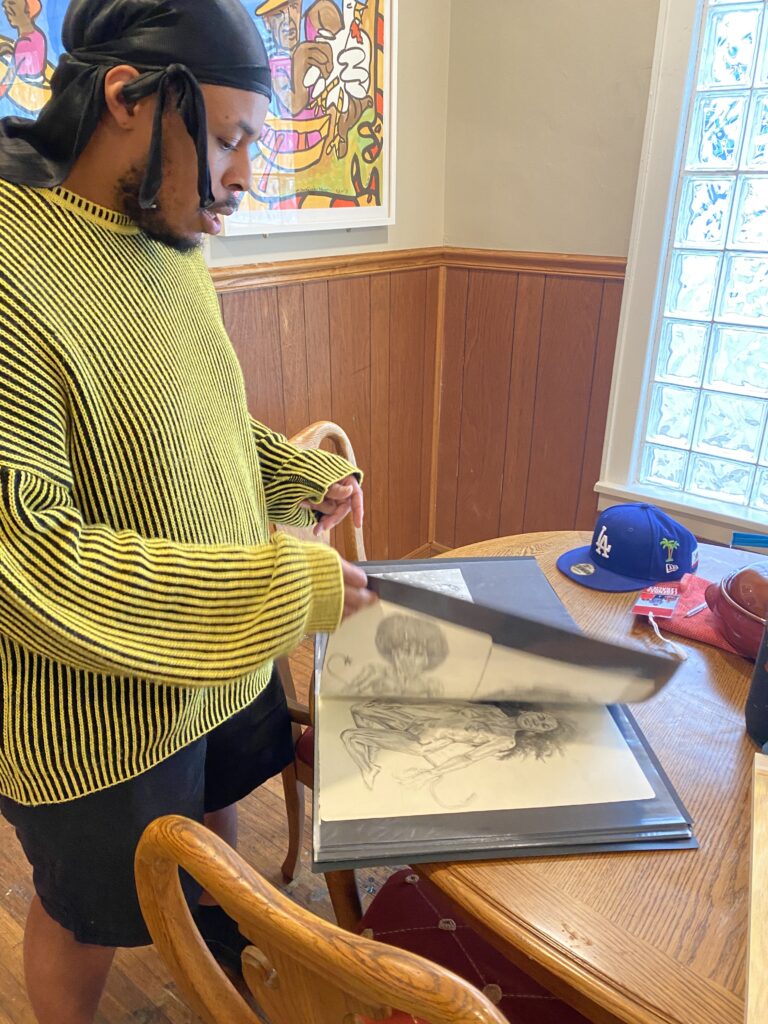 Living and working in the spirit and home of Aminah Robinson has brought Young a sense of motivation throughout his stay. Young says, "Aminah possessed a sense of alchemy in the way she turned trash into treasure. As an artist, she had a power to transform materials past what they were originally intended to do."
Inside of the house, he has found inspiration among the fantastic portraiture, furniture, and artistic spaces. He especially found comfort on the living room couch, where he spends most of his time. "The house has a certain energy," he says, speaking on the countless wonders to explore. During his stay, Young has also had the opportunity to connect with previous Aminah Robinson residents while exploring Columbus.
Young holds a bachelor's degree from West Virginia State University and a master's degree from the School of the Museum of Fine Arts at Tufts University. During his undergraduate studies, Young often visited Columbus for artistic inspiration. His previous awards include the School of the Museum of Fine Arts at Tufts University Traveling Fellowship and the Walter Feldman Fellowship for Emerging Artists. His work is held in several collections, including the Museum of Fine Arts Boston and the Juliet Art Museum.
On November 19, 11:00 AM—2:00 PM, visit the Columbus Museum of Art to work alongside Anthony Peyton Young for an Open Studio session on printmaking. To learn more, click here.