[ad_1]

Exhibition: Arnold Schönberg and the New Viennese School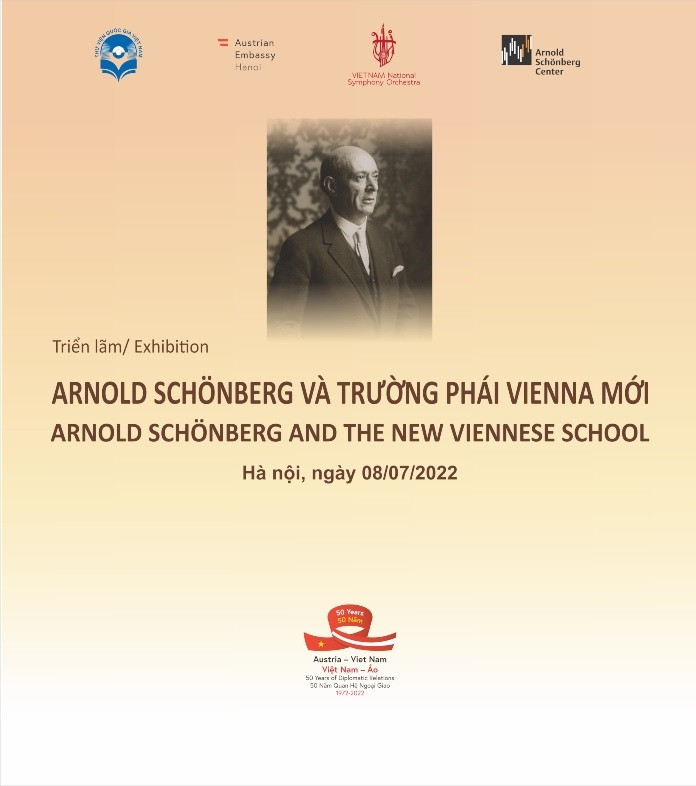 Opening: 04 pm 08 July 2022, 04 pm
Exhibition: 08 – 22 July 2022
National Library
31 Tràng Thi, Trần Hưng Đạo, Hoàn Kiếm, Hà Nội
The Austrian Embassy in Ha Noi in cooperation with the National Library of Viet Nam, the Viet Nam National Symphony Orchestra (VNSO) and the Arnold Schönberg Center is organizing an Exhibition about Arnold Schönberg and the New Viennese School.
Arnold Schönberg, who also developed the twelve-tone technique, and his pupils, particularly Alban Berg and Anton Webern, belong to the most influential composers of the 20th century. They marked a new epoch in music history.
The exhibition will be accompanied by performances of the works of the mentioned composers, by the musicians from the Vietnam National Symphony Orchestra (VNSO), Vietnam Academy of Music (VNAM) and Schubert in a Mug (SiaM); under the musical supervision of the Principal Conductor the VNSO, Maestro Honna Tetsuji.
The Opening of the exhibition will take place at 4 pm, July 8, in the National Library. It will be followed by a concert with arrangements of Viennese Waltzes by Arnold Schönberg, Alban Berg and Anton Webern. Further performances by musicians from the VNSO with works of these composers will take place on 16 and 22 July at 6:30 pm in the National Library.
Session 2: 16/07/2022, 06:30 pm – 07 pm – Intermediate Concert
SCHÖNBERG'S "BRETTL LIEDER (CABARET SONGS)"
Soprano – ĐÀO TỐ LOAN
Piano – NGUYỄN THÁI HÀ
Session 3: 22/07/2022, 06:30 pm – 07 pm – Closing concert
ARNOLD SCHÖNBERG "VERKLÄRTE NACHT"
Violin – NGUYỄN THIỆN MINH
Violin – ĐỖ NGỌC THẢO MY
Viola – GOLUBOVSKAYA SVETLANA
Viola – PHÙNG HOÀI THU
Cello – PHAN ĐỖ PHÚC
Cello – LƯU LY LY
Pinhole Camera Workshop: Magic in a Shoebox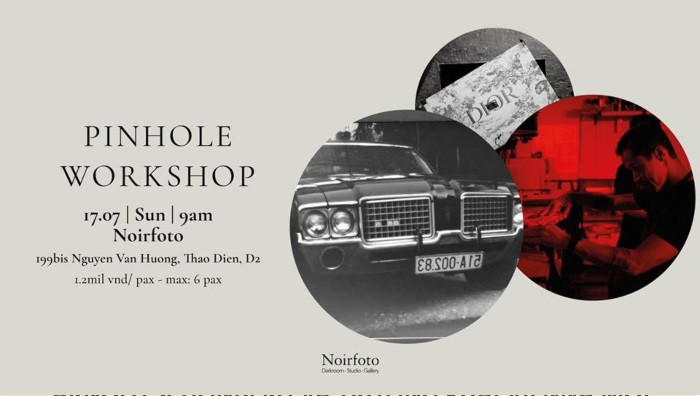 Sun 17 July 2022, 09:30 am
Noirfoto
199bis Nguyễn Văn Hưởng, Thảo Điền, HCMC
Do you know how a photograph is made and where did photography start?
The pinhole photography workshop Magic in a shoebox will give you a truly immersive experience with a journey back in time, from the discoveries of camera obscura hundreds of years BC, to its applications in Renaissance art thanks to the Science Revolution, to the significant technological developments of the Enlightenment era and the Industrial Revolution that led to the birth of Photography. You will discover Photography from its most basic constituents, from the starting point for all camera generations – mechanical to digital, to today's iPhones. Then you'll be instructed to make one yourself, a hand-made camera from just a shoebox with a few other simple tools.
In the workshop, you will be able to craft and decorate your own camera, unleash your creativity and ideas, learn and recall basic knowledge of mathematics, physics, and chemistry, which makes the special art of Photography. What's more, you also use the camera you just created to take pictures at Noirfoto's studio.
Most significantly, you will have the unique chance to experience the darkroom and hand-printed photos. You can develop your own photos in the miraculous red light and with specialized chemicals and discover the unforgettable magical feeling of watching the image slowly appear on the white paper soaked in the chemical tray.
At the end of the workshop, you will also have unique black and white photos for yourself your family and friends.
Yes. Let's enjoy the joy of exploring the magic of taking photos with… a shoebox!
Workshop content:
– Learn about the history of photography/pinhole camera. Learn about the principles of photography
– Learn about pinhole camera construction. Practice making your own camera using a shoebox, scissors, and tape
– Practice taking pictures with black and white photo paper and experience developing photos in a darkroom
– Learn and practice the process of creating negatives and positives
– Learn about the chemicals used for analogue black and white photos
This workshop is suitable for:
– Everyone who loves art and photography
– Photographers who want to learn about the history and principles of photography.
– Visual artists who wish to explore a new tool and material for composition.
– Children who love craft, science, creativity, art, and all at the same time
– Families with parents and children participating will have a fun and rewarding weekend activity.
Instructor: Pham Tuan Ngoc
Duration: 2.5 hours
HBSO offers two concerts of film music
8pm, July 16-17
Saigon Opera House
7 Cong Truong Lam Son, Ben Nghe, District 1, HCM City
 
From Elton John to Shostakovich – the range of composers who have written music for films is enormous. If you want to sample this range, the HBSO's two concerts on Saturday and Sunday, July 16 and 17, are an ideal opportunity.
The fact that there are two concerts rather than one suggests the HBSO anticipates considerable interest, and Meritorious Artist Tran Vuong Thach on the podium is a sure sign of the importance of the events.
The Gadfly is a Russian film from 1955 with music by Shostakovich. It tells the story of an attempted uprising by Italians against their Austrian occupiers in the 19th century led by "the Gadfly", the illegitimate son of a Catholic priest. Gadflies are biting insects that attack animals, especially horses.
Among the other films featured in the program are Raiders of the Lost Ark, The Lion King, Harry Potter and the Sorcerer's Stone (Hedwig's theme), the James Bond movie Sky Fall, and Gladiator.
Many items are in special arrangements by HBSO's Nguyen Manh Duy Linh.
Two other films to appear among the total of 19 items are Mission: Impossible and Once Upon a Time in America.
Prominent vocalists to appear will be Pham Duyen Huyen, Dao Mac, Phan Hong Diu, Hoang Ngoc Anh Quan, Pham Trang, and Pham Khanh Ngoc. The final item, from The Lion King, will feature four soloists from the above list.
Doan Huy An will also appear as a solo trumpeter in an item from the movie Notting Hill.
Mulan was a controversial film about a Chinese woman who disguises herself as a man in order to fight for a cause in which her father had suffered. It is represented in these concerts by an instrumental suite.
Another film with an oriental theme is Aladdin. This time the concerts feature a duet sung by Dao Mac and Pham Duyen Huyen.
House of Flying Daggers contains a lot of music – it is as much a love story as a martial arts movie. In Saigon we will hear an item sung by Pham Khanh Ngoc.
Bryan Adams's Everything I do I do it for You is the main theme in Robin Hood: Prince of Thieves. It will be sung by Tran Duy Linh.
Finally, Ronin was an American action/adventure movie renowned for its car chases, with the song Time to Say Goodbye featuring prominently. This will be sung by Pham Khanh Ngoc and Tran Duy Linh.
The importance of film music is that it is the music of our era's most prominent and important dramatic form. Live theatre reaches far fewer people, and furthermore it's transient – after the last performance it is largely forgotten, together with its music. Film. by contrast, frequently enjoys a second life on television, not to mention the vast possibilities of YouTube.
Tickets range from VND550,000 to VND1,000,000, with a special price of VND150,000 for students.
REC TOUR 2022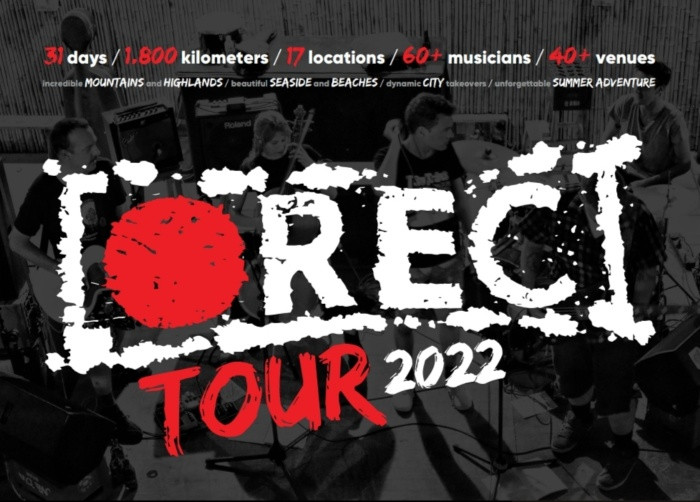 June – July 2022
REC Viet Nam grows from REC Room – A music management and event production team based in Hanoi. REC ROOM was formed in 2014 as a DIY audio recording studio, but has since developed into a community-driven music production team, with particular focus on; live music events, contemporary musical subcultures, management, tour production, and audio/video production for artists based in Vietnam.
Band – Musicans of REC TOUR 2022
PART 1: Hà Nội > Train > Hội An
Tiny Giant – The La Belle et la Bête's – Lạc Wine – Soul Sistas – Táo Mèo – MẮM – Sami Lee – LinhHafornow – Ognam – FLOW.D – Tomes – Urban Orangutan – Luna Avem – Manuel Orkestar – GIT – À Poil Sous La Douche – ···
PART 2: Măng Đen > Kon Tum > Yok Đôn > Buôn Ma Thuột > Đà Lạt
Tiny Giant – La Belle et la Bête's – Lạc Wine – Soul Sistas – Táo Mèo – Mắm – Sami Lee – LinhHaForNow – Ognam – Flow D – Tomes – Urban Orangutan – Luna Avem – Manuel Orkestar – Gloria Rant – GIT – À Poil Sous La Douche –
PART 3: Đà Lạt > Nha Trang
7UPPERCUTS – ĐÁ SỐ TỚI – CÚT LỘN – Trashzilla – District 105 – Mèow Lạc – Tiny Giant – La Belle et la Bête's – Bloodshed – Bamboo Tambourine – Nam Thế Giới – Lạc Wine – Soul Sistas – Táo Mèo – Mắm – Sami Lee – LinhHaForNow – Ognam – Flow D / Noise Psycho – Tomes – Green Means Go – Urban Orangutan – Luna Avem – Manuel Orkestar – Lina Rej G-Rant – GIT – ···
PART 4: Ninh Vân > Gành Đá Đĩa > Qui Nhơn > Tam Kỳ > Hội An
Trashzilla – Limebócx – Tiny Giant – La Belle et la Bête's – Bamboo Tambourine – Zamina – Lạc Wine – Táo Mèo – S.E.Project – Mắm – Sami Lee – LinhHaForNow – Ognam – Flow D / Noise Psycho – Tomes – Bill_ Mukang Fields – Urban Orangutan – Luna Avem – POLY – G-Rant – GIT – À Poil Sous La Douche – ···
PART 5: Hội An > Đà Nẵng > Lăng Cô
7 Uppercuts – Đá Số Tới – Trashzilla – District 105 – Limebócx – Tiny Giant – La Belle et la Bête's – Bamboo Tambourine – Ngầm – Lạc Wine – Táo Mèo – S.E.Project – Mắm – Sami Lee – LinhHaForNow – Ognam – Flow D / Noise Psycho – Tomes – Urban Orangutan – Luna Avem – Manuel Orkestar – POLY – G-Rant – GIT – À Poil Sous La Douche – ···
Vietnam Design Week 2022 – Theme "Beyond Expectations"
Deadline: 01 July – 31 Aug 2022
On June 25, 2022 at Complex 01 (Hanoi), Vietnam National Institute of Culture and Arts (VICAS) and VietNam Design Group will officially launch the Designed by Vietnam 2022 contest within the framework of the program Vietnam Design Week 2022 (3rd season), with the collaboration of many professional partners.
Following the contest Designed by VietNam with the theme "Regeneration" (2000) and "Awakening Traditions" (2021), this year the contest will focus on the theme "Beyond Expectations" in 05 areas: Communication Design, Living Design, Decor & Object design, Clothing Design, Public Design and a special strand of "HaNoi Design City – HaNoi is beautiful every centimeter".
Deadline and place to receive submissions:
– Deadline: from 01 July to 31 August, 2022 (Hanoi GMT+7)
– Email for receiving submissions: [email protected]

Exhibition "Impermanence"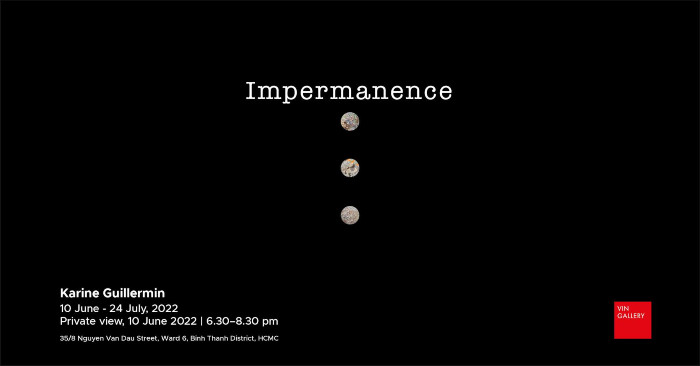 10 June – 24 July 2022
Vin Gallery, 35/8 Nguyen Van Dau, Ward 6, Binh Thanh District, HCMC
This year, Karine Guillermin will be presenting her recent works. Impermanence invites you to hear the silence and seek conversation with yourself.
Impermanence is an invitation to understand your mind. Taming is sometimes the same as finding freedom. Hear the sound of silence in your thoughts. Seek a conversation with yourself. A monologue is personal, impersonal and temporal. It is beyond visual perception where time does not matter.
In this series of her new work, Karine Guillermin explores the space to its limit. She manages to use every corner and gap across tiles through the walls. The arrangement has mesmerised our visuals with the details she displays.
Exhibition " Dept. of Speculation"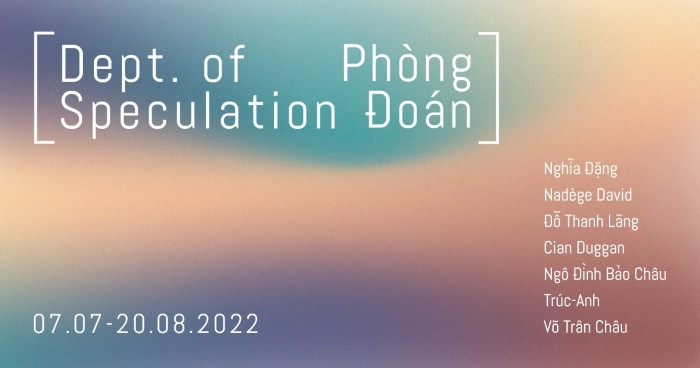 Until Aug 20,
Tues – Sat, and by appointment, 10 am – 07 pm
Galerie Quynh, 118 Nguyen Van Thu, Da Kao Ward, District 1
Galerie Quynh is pleased to present 'Dept. of Speculation' — a group exhibition featuring new and recent projects by Nghĩa Đặng, Nadège David, Đỗ Thanh Lãng, Cian Duggan, Ngô Đình Bảo Châu, Trúc-Anh and Võ Trân Châu.
'Dept. of Speculation' is a non-hierarchical agency that materialises and thrives only in the realm of thoughts and possibilities. Its existence was unknown to many including its members — the speculators, until recently. Just as the speculators attempt to make sense of what is happening in their lives, the department begins to take form. The department functions on a conjectural, pseudo-scientific premise: ideas about time and space as we know them are subject to the speculators' very own empirical and personal reconfigurations. 
Photo exhibition highlights beauty of Spratly Archipelago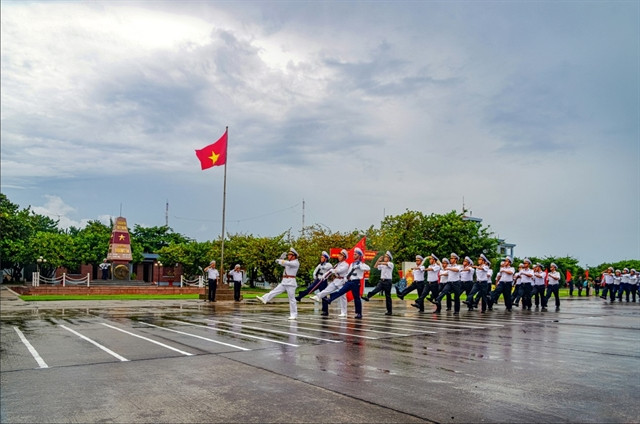 Until Jul 18,
122 Suong Nguyet Anh Street, District 1, HCM City
The Spratly Archipelago and the life of the soldiers there are captured in a photo exhibition by artist Doan Hoai Trung in HCM City.
Featuring 90 photos taken during Trung's five trips from May 11-19 to the archipelago.

Exhibition: Illuminated Curiosities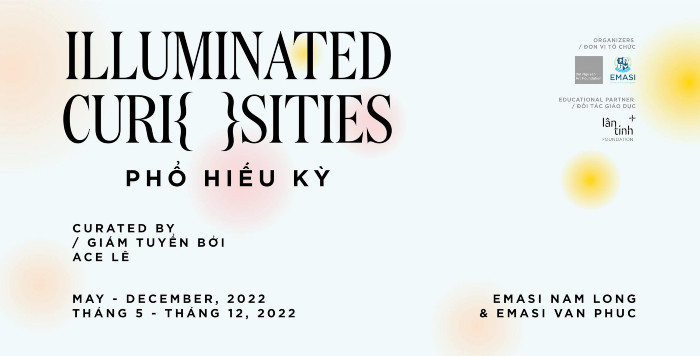 Until Dec 2022
EMASI Nam Long
147 Street No.8, Nam Long Residential area, District 7,
EMASI Van Phuc
2 Street No.5, Van Phuc Residential City, Thu Duc District,
Nguyen Art Foundation (NAF) proudly invites you to the opening of 'Illuminated Curiosities', a group exhibition with 26 artists featuring 46 artworks from within and outside NAF's Collection. Curated by art researcher Ace Le, with the curatorial assistance from Duong Manh Hung and Tam Nguyen, the exhibition will take place simultaneously across the campuses of EMASI Nam Long and EMASI Van Phuc, over the course of six months from May to December of 2022. 'Illuminated Curiosities' is a collaborative effort between NAF and Lan Tinh Foundation.
Exhibition spotlights tigers in Vietnam's ancient art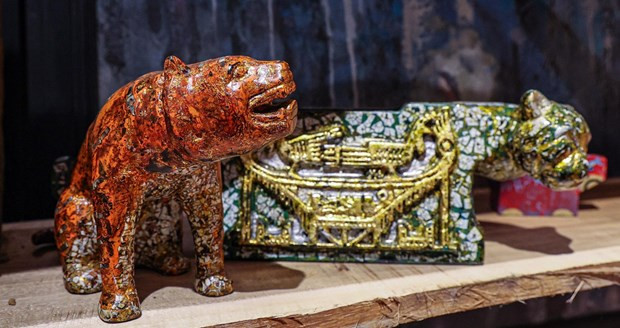 Until August 31,
Vietnam National Museum of History,
Featuring more than 30 exhibits, documents and images featuring tigers throughout over 2,000 years of the country's art history, showing that the image of tigers was widely portrayed in Vietnam's ancient pottery, carving and folk paintings, among others.
Danish Film Week 2022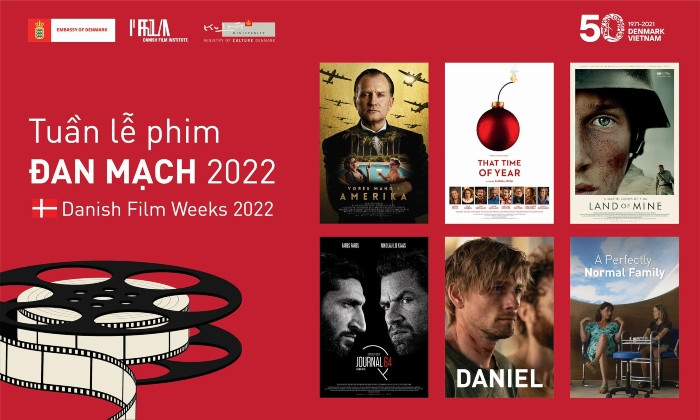 Jul 8 – 13, CineStar, 135 Hai Ba Trung Street, District 1, Ho Chi Minh City
Jul 9 – 14, National Cinema Center, 87 Lang Ha Street, Ba Dinh District, Hanoi
'The Good Traitor', 'The Purity of Vengeance', 'That Time of Year', 'A Perfectly Normal Family', 'Daniel' and 'Land of Mine' represent the high quality of Danish film production within recent years. They have all won several awards and nominations at Danish and international prestigious film festivals.
The selected film collection this year will give local audiences a glimpse of the Danish society and life. The narratives of the films are captivating and varied. For example, 'The Good Traitor' poses an ethical and personal judgment issue: should one do what he is asked to do in his position or follow his own judgment – even if this action can destroy his career and put him in prison.
'Daniel' will take audiences through the heart-breaking and desperate times that Daniel and his family had to go through in the attempt to free him from the capture of ISIS in Syria. Local audiences will have the opportunity to immerse themselves in various life stories, but will also leave the cinema halls with optimistic and hopeful notes and messages.
All films are with Vietnamese and English subtitles. Some are with age limits. Tickets are free and can be collected from 22th June 2022 for Hue and Da Nang and from 24th June for Hanoi and HCM city at the following venues:
Le Ha
[ad_2]

Source link