What is Fused Glass?
Fused glass refers to the process of heating two or more pieces of glass in a kiln at very high temperatures. Basically, the pieces are melted together so they form a single piece of glass. Fused glass also has many creative uses but the invention of the glass pipe and the resulting blown glass art forms quickly dwarfed the popularity of fused glass art for a very long time. Thankfully, there was a resurgence in the early twentieth century, initially in America before spreading across the world, and fused glass art continues to be incredibly popular to this day.
Origins of Fused Glass Art
People often think glass fusing is a modern invention. Rather surprisingly fused glass art has actually been around a lot longer than one might think. Although there is some debate over whether or not the method was invented in ancient Egypt or Ancient Rome, what is widely accepted is that it has been around for about 3-4 thousand years.
Artists and producers experimented with melting various mixtures of silica, oxides at high temperatures, often greater than 2500oC. And the method quickly took off as colourful jewellery and other decorative items such as vases and bottles became popular across these ancient civilisations. 
The Tools For The Job
Fusible glass is a must for creating fused art glass. Basically, this means glass types that won't break when heated up and cooled down in the kiln. Popular glass types include Bullseye and Spectrum. Other tools required include a pattern design, glass cutter, pliers and of course a kiln. Also needed are cleaning solutions for the glass as well as health and safety equipment such as safety goggles.  
Depending on the project there are many different creative effects that can be achieved. Ground glass called 'Frit' can be used to create both translucent and opaque effects. Glass rods called 'Stringers' are often used to create smaller shapes within the piece. These stringers can first be cut and shaped over a flame. Glass paint/enamel is powdered glass in a liquid suspension. This is piped on rather like icing a cake and is used to create finer details.
Often artists will make multiple firings, adding additional glass pieces and firing at lower temperatures which partially fuses the glass. This is called 'tack fusing' and is used to create texture to the glass artwork.
Various combinations of sheet glass, Frit, stringers, gold mica powders, wire etc. can be assembled before placing in a Kiln for firing. You can fuse the glass flat, with texture, bubbles or slumped etc. Essentially there are as many possible combinations and uses – imagination is the only limitation!
The good thing about glass fused art is that the artist has as much time as they need to create their final piece as a lot of the work is done while the glass is cold, both before the firing process as they build the initial design and after the glass has cooled when the artist may cut and grind the piece to achieve their final vision. In essence, there is much greater control over the finished product compared with what might be achieved with blown glass. 
Fused Glass Artists At Boha
There are many, many exceptional fused glass artists working today, and we are very pleased to represent some amazing talent here at Boha. These include, but are not limited to, the following: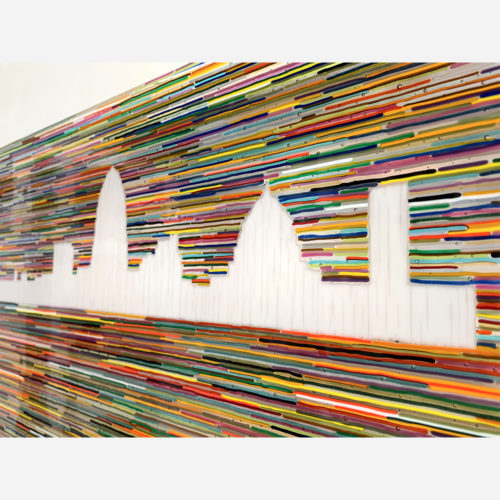 Adam Hussain glass art specialises in kiln-form techniques to create one-off pieces, which have a handmade character. His art often features geometric patterns and abstract imagery of cityscapes constructed with 1mm glass stringers. Using both transparent and opaque glass he experiments with the transmitted and reflective light created by each artwork.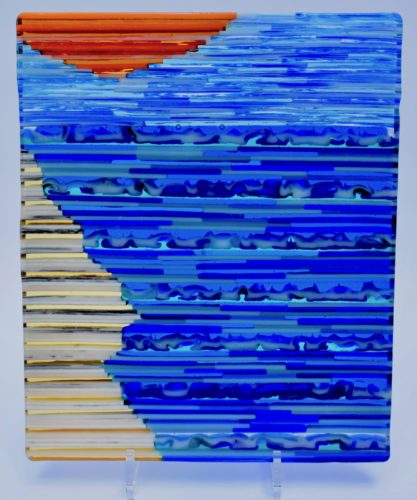 Amanda Charles glass art is inspired both by contemporary art movements and great art movements such as Bauhaus. Her abstract art creations focus on geometric and powerful colour contrasts. The elaborate detail of her pieces creates both linear and non-linear compositions – a harmonic dissonance if you will.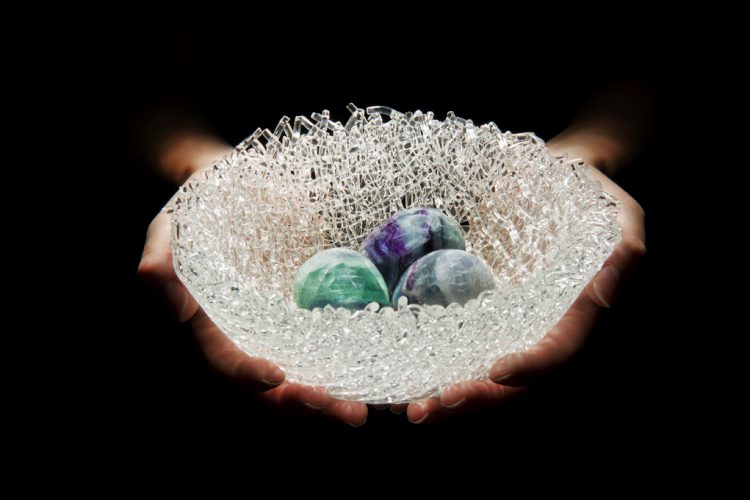 Cathryn Shilling art glass has been exhibited across all corners of the globe, from the Netherlands to Mexico, to Japan and Denmark. Cathryn's work has also led to her winning the number 25 spot of Most Amazing Glass Artists Alive Today. She has also won the Warm Glass Artists Prize and twice nominated for the SUWA Garasuno-Sato Glass Prize.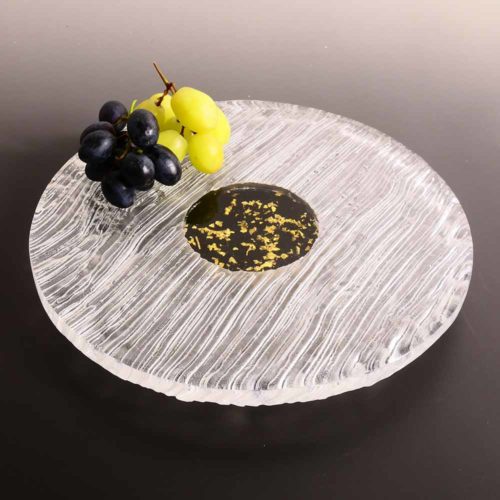 Deborah Timperley is an accomplished UK glass artist who has produced stunning glass artworks for over 20 years. Her work features beautiful and colourful cast glass bowls and sculptures. It only takes one look to 'feel' the joy and creativity that has been poured into every single piece.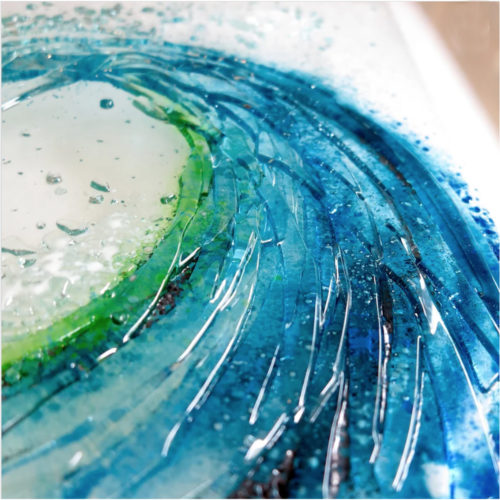 Dreya Bennet is inspired by water, especially the sea and its different moods.
"The colour of glass, its reflections and translucent quality instantly captured my heart. Glass has a similar quality to water. It is enigmatic, you can look at it or through it. It is there and not there and can create a potent visual effect, either opulent or subtle. I love the challenge of designing for different buildings, interiors and people, whether a large architectural piece or an intensely personal small piece" said Dreya.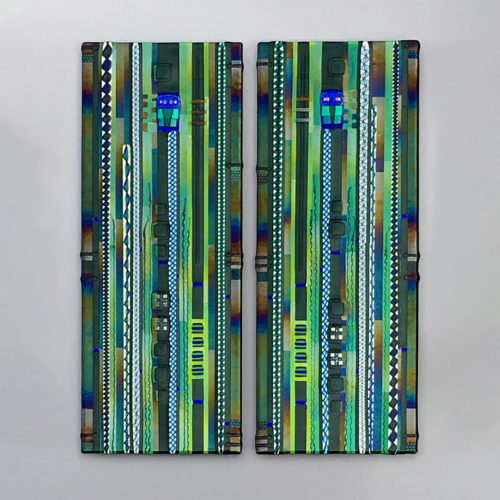 Mark Ditzler glass artworks have a beautiful shine and iridescence. His pieces feature special "surface design elements". These may be twisted canes, murrini. Screen-printed enamels and powders, iridescent and dichroic glass, or gold and silver foils are used as accents to produce glass art of heirloom quality.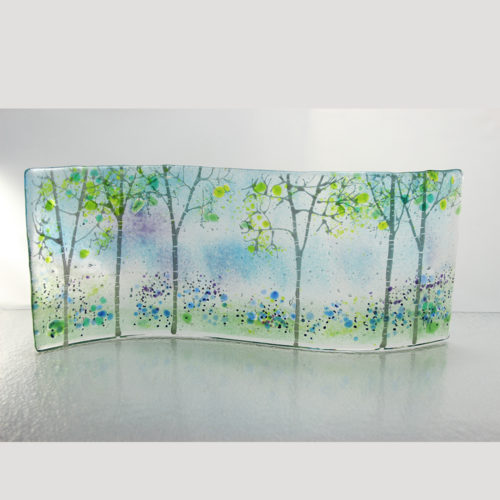 Rebecca Mansbridge creates multi-dimensional pictures and free-standing fused glass artworks. They are enchanting and often atmospheric fused glass waves and pictures that capture the magical beauty and tranquillity of the natural world.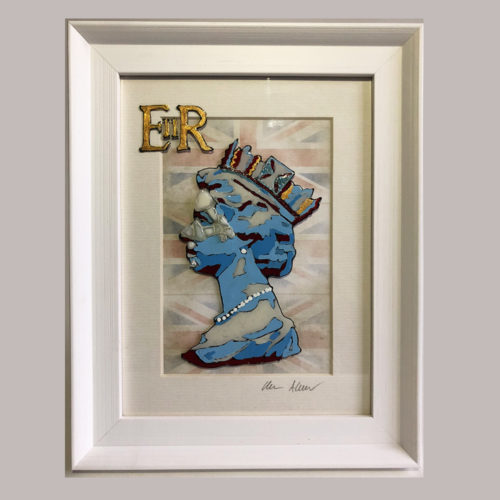 Sea on Glass is the brainchild of British artists, Anna & Lesley. These resourceful and inventive artists specialise in creating pictures of images using recycled sea glass. Their wide range of artwork, which is inspired by iconic British imagery, architecture and animals, is unique. There is nothing quite like them out there!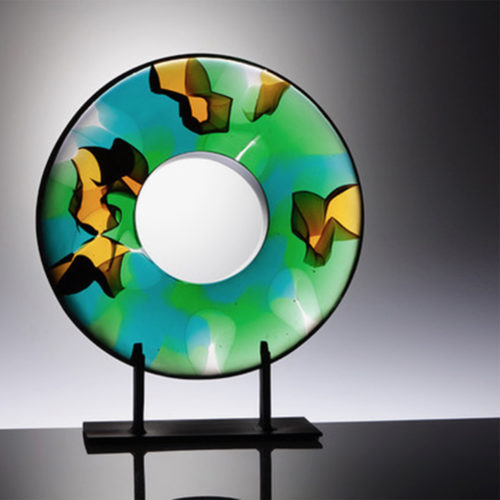 Sandra Balmer designs and creates large kiln formed cast sculptures, inspired primarily by the landscape around her. In 2020 Sandra produced her first collection of works entitled Land, Sea and Sky. A collection of unique fused and cast glass sculptures that capture both the colour and movement of the nature around her.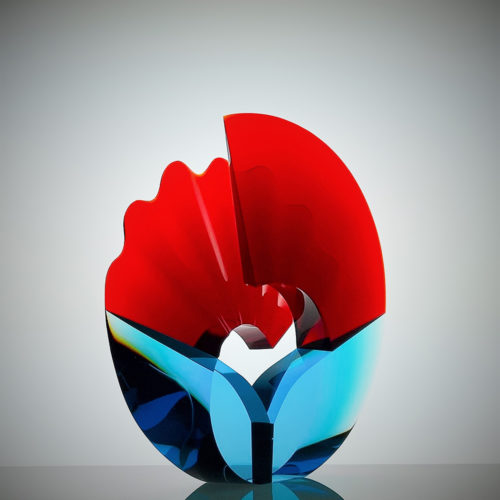 Vlastislav Janáček optical glass sculptures are beautifully modern and very colourful. They reflect and refract light to a dazzling effect. His bold and uncompromising sculptures definitely make a statement, bringing a welcome dash of brightness to the art glass market.
Vandacrafts was set up by creative husband and wife team Vanda and Peter Smyth. Their home in Arundel, West Sussex is a constant inspiration and their art, therefore, echoes their love of trees, foliage and flowers. Capturing how the countryside changes and interacts with the light of the sun and the passing of the seasons. Every single one of their beautiful free-standing glass art is a labour of love!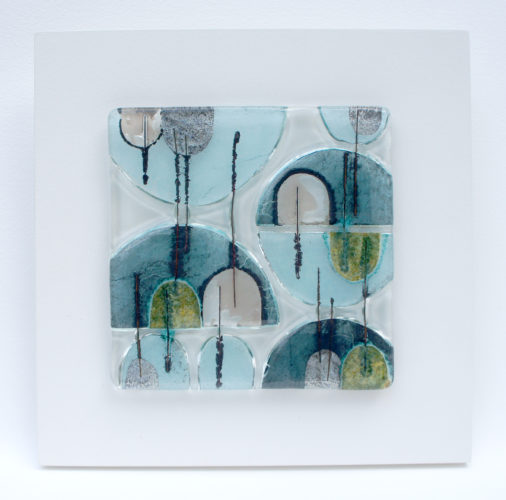 Wendy Newhofer makes expressive glass pieces that have a 'painterly' quality to them. She is able to 'draw' within the glass and create a palette of subtle colours. She achieves this by including precious metal leaf and wire in her designs. The glass is then fired in the kiln to create her stunning artwork. Her love of pattern informs her work. In addition, natural forms have been a strong influence in her work.