In this episode you meet with a beautiful soul and amazing realist artist – Michael Hlousek-Nagle. Inspired by nature, classical music, Roman civilization, Egyptian art and archeology, the artist depicts personal space of solitude, quietness, introversion and hope. His canvases are female portraits set against dark, mysterious landscapes. Moody, solitary figures are caught up in self-reflection, yet embody strength and intelligence. Beautiful and often sensual women live in a quiet, dark space that's not self-explanatory. It makes us wonder about women's origin and thoughts. Michael's realist paintings exhibit masterful color harmony and visual balance. The artist lives with his wife and two children in England.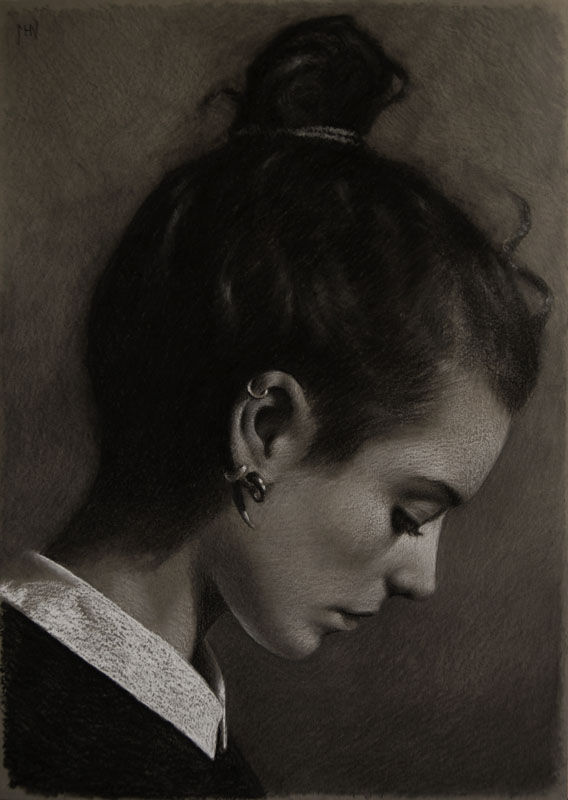 We chatted late in the evening in the beginning of November 2021 with a 4-hour time difference between Florida and England. The connection was really bad and parts of the recording were lost in space for good. However, salvaged parts of the interview were stimulating. Michael is a very kind human being who opens his heart up talking not only about the technique of oil painting but also his world view and how his creativity works to produce art.
"Since mankind began making marks we have used art to tell the story of what and who we are, and of the world in which we find ourselves, and however fragmented and distorted our world may now be, however many innovations and techniques painters have at their disposal, it is still essential that artists use their work to allow us to see ourselves, to tell the story of us, and not merely the story of art."– Michael Hlousek-Nagle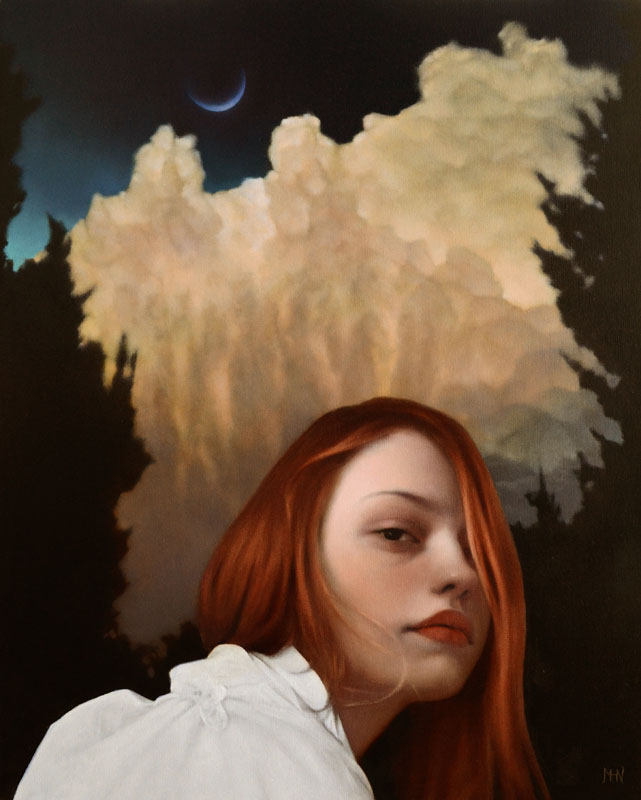 Born in Cambridge in 1971, Michael Hlousek-Nagle grew up in a small farming village in the English countryside near Oxford, and spent most of his childhood exploring the fields and forests. His early interests did not include drawing or painting, instead he wanted to pursue a career as an archaeologist and was drawn especially to ancient Egyptian history. His first foray into art was an attempt to turn his bedroom into an Egyptian temple by decorating it with life-size figures of Osiris, Isis, and Anubis.
The artist studied and graduated with a BA in Theology and Religious Studies at the University of Leeds, but did not know what he wanted to do with that qualification, and after drifting aimlessly for a while he was forcibly pushed into studying Art by a friend who apparently knew him better than he knew himself. He received a William and Mary Armour Award studying for his BA degree at the Glasgow School of Art in Scotland, and won a scholarship to study at the New York Academy of Art for his Master's degree in 2002.
His work has its roots in the techniques and strategies of the western figurative tradition, drawing inspiration from the paintings of Balthus, Goya, Paula Rego, and Zurbaran, among others, and contemporary artists – Amaya Gurpide, Jordan Sokol, and Rasha Alem.
In 2004 Michael was set-designer for a new ballet, Shambards, by New York City Ballet's choreographer-in-residence Christopher Wheeldon, which premiered at the Lincoln Center in New York on May 4th 2004, and has also been performed at the Saratoga Festival. In 2005 Michael produced a set-design for a new ballet to be performed by the Royal Ballet, Covent Garden, London. Since 1998 he has received many commissions from private collectors, and his work is currently in private collections in New York, Seattle, Geneva, Paris, Vienna, London, Edinburgh and Glasgow, as well as the permanent collection of Glasgow School of Art. Between 1998 and 1992 Michael was commissioned to produce cover artwork and photography for a series of 7 CD releases of the music of internationally-acclaimed composer James MacMillan. One of Michael's paintings has been used as the cover artwork for an Italian edition of the international bestseller "While My Eyes Were Closed" by Linda Green. The artist exhibited art at Galerie Kohler in Geneva, Blackheath Gallery, Three Colts Gallery, and Medici Gallery in London and in a number of galleries in Glasgow. The artist is represented by 33 Contemporary art gallery in Chicago.
https://www.instagram.com/michaelhlouseknagle/
https://www.facebook.com/michael.hlouseknagle.7/
---
Reach out with questions or topic ideas @ Veronicasart.com . Follow: Instagram: @veronicawintersart & Facebook @veronicawintersartist | Hooked on Art podcast is one of the Top 10 Art Collecting Podcasts on the web rated by Feedspot in October, 2021.
Podcast: Play in new window | Download