[ad_1]

Ten studio art majors have completed their semester-long senior seminar,  which resulted in an exhibition in the Peeler Art Center.
"These students spent a year working on their own original ideas within their chosen visual medium such as ceramics, sculpture, photography, digital art, painting and mixed media," said Cindy O'Dell, art and art history professor. 
The exhibition,  open through Saturday in the Visual Arts Gallery, can be viewed virtually here. 
Students explored topics of identity and gender; race and family; memory and loss and dislocation; sustainable practices in relation to the commodification of trees; the question of "what is art really?;" and an admiration of the natural world. For some of them, their work was inspired by personal traumas or a loss in their lives, and several explored questions related to other fields such as perception and psychology.
"It's our goal that our students determine their artistic voice with clarity," O'Dell said. "As fine artists in the United States, we have the privilege to communicate our ideas about complex topics such as gender, politics, self, family, heritage, race and class – usually without repercussions.
"But with that freedom comes an important responsibility." 
The senior seminar requires students to reflect on their ideas, research them and be aware of the history of their medium. 
"We ask students to look at contemporary influences as well as the artists who have gone before them," she said. "Otherwise, the young artists run the risk of perpetuating stereotypes or perhaps fostering untruths. And they do all of this while honing their technical skills or even learning new techniques."
O'Dell said the students showed dedication, determination, hard work, patience, risk-taking and follow-through throughout the semester, and the art exhibition reflects that. 
"I hope that the passions these seniors found while at DePauw and so diligently fought for to make the exhibition possible will guide their artistic journey throughout their lives."
Highlighted below are three of her students.
Hannah Buchanan
Major: studio art
Minors: geology and art history
Destination: DePauw Efroymson Bridge Year Arts Fellowship 2022-23 with plans to pursue an MFA in painting.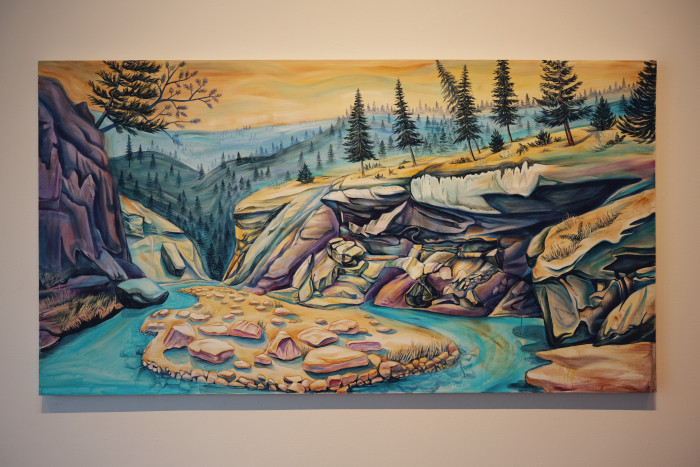 Who influenced you along the way at DePauw?
The most influential faculty member I've worked with is John Berry. He encouraged me to step outside of my comfort zone and pushed me to think more conceptually about my work. He also taught me that it is OK to fail because there's so much to learn from those experiences that make the following projects stronger. I can also say that the rest of the Art and Art History Department, my fellow senior art majors, and the fifth-year fellows have also influenced me in similar ways, helping my work grow and evolve over my four years here. And outside of the art department, there are so many other professors, staff members and students that I can't thank enough for their support.
Share the inspiration behind your work in the exhibition:
This stems from a fascination I have with the landscape and how all of its essential elements work to create a harmonious environment. Each painting in the exhibition represents different spaces I've experienced throughout my life, stitched together into new worlds.
I am incredibly grateful for the wide variety of opportunities DePauw has offered me, and for the people who have been by my side on this journey.
Holly Buchanan
Majors: art history and studio art
Minor: museum studies
Destination: DePauw Efroymson Bridge Year Arts Fellowship with plans to pursue a Ph.D. in art history.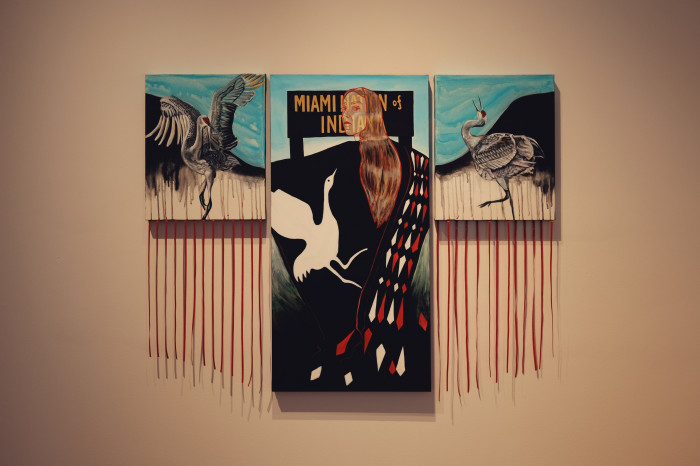 Who influenced you along the way at DePauw?
As a painter, professor John Berry provided a lot of guidance for me. He helped me understand how I can effectively balance the formal and conceptual elements of my work and also pushed me to step out of my comfort zone in terms of style. I also give credit to the art history faculty. A lot of my paintings have been research-based, so the skills I've gained in art history courses have come in handy for that. Along a similar line, professor O'Dell helped me a lot this semester when applying history and research to my own artwork. Overall, the art department as a whole has been an amazing support system throughout these four years.
Share the inspiration behind your work in the exhibition:
I've always been interested in my heritage and family lineage. I'm a member of the Myaamia (Miami) Nation of Indiana, and my family is actively involved in the tribe. I wanted to better understand Miami history and how that relates to the current state of the Indiana Miami today, particularly as a state-recognized tribe fighting for the federal recognition that was unjustly terminated many years ago. My root inspirations were two Miami stories I've heard growing up: the creation story and a crane story. From there, I dove into the complex history of the Indiana Miami through a lot of research in addition to what I already knew through family. Ultimately, my own feelings and experiences became the main focus of the paintings, all of which are semi-transparent self-portraits.  
Abby Downs
Major: studio art
Destination: Herron School of Art and Design at IUPUI to pursue a master of arts in art therapy and mental health counseling.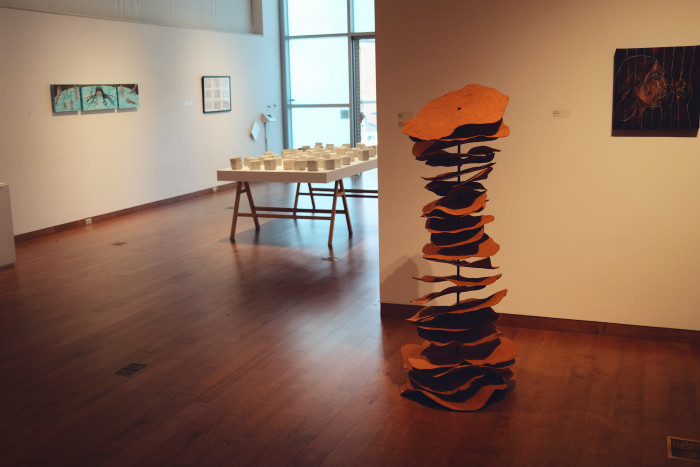 Who influenced you along the way at DePauw?
Wow. Too many people to count. My entire family, but specifically my mother, Rose Ann Lucas Downs, for always supporting my dreams and aspirations and my future career in the arts. Professors Meredith Brickell and Lori Miles have both been incredible inspirations to me, as well as all of the incredible Peeler staff and fifth-year fellows for making my four years so very memorable. 
Share the inspiration behind your work in the exhibition:
My work primarily focuses on the idea of loss and growth through abstraction and experimentation. Creating thin, paper-like earthy layers, tall stark-white towers, colorful wavy pieces and hundreds of hand-altered porcelain chucks required hours of repetitive action, which created a sense of inner calm and contentment for me. The abstract forms and textured surfaces create emotional landscapes that invite viewers to question their own emotions and past traumas. I am interested in inviting the viewer to get closer to connecting with me through the marks I leave in the clay, and thereby reducing the distance between our shared humanity. Perhaps through careful observation, this will help the viewer value both the loss and growth they experience in their own lives.
I have used artmaking as a way to move forward and process loss and grief that I have experienced in my life as a teenager before coming to DePauw. Making art has kept me sane as I went through a lot of change and loss and now I want to share this with others through not only this show but as a future art therapist. 
My exhibition is dedicated to my late father Vincent Ray Downs and my grandmother Rose Marie Lucas.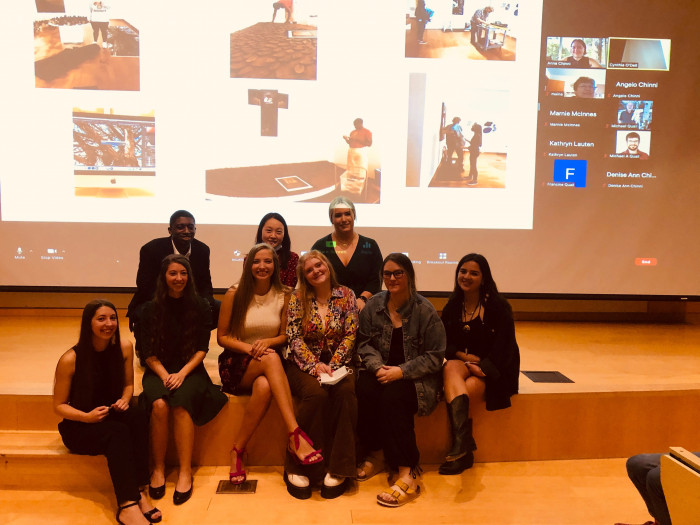 Studio art majors. Front row: Holly Buchanan, Hannah Buchanan, Abby Downs, Grace Miles, Abby Morrison and Emma Pizana. Back row: Brian Antoine, Jinzhi Qin/ Althea and Alyssa Luarde. On Zoom in top right corner: Anna Chinni. 
[ad_2]

Source link