Adorning the home with wall art is a wonderful way to express one's creativity and enhance the walls in your living and workspaces. While traditional paintings continue to be incredibly sought after, wall art sculptures have gained popularity. Sculptural wall art provides another dimension and depth to the artwork. The shadows and texture and general 3D nature can bring a more meaningful presence to your decor. Popular sculptures include busts of the human body, animal heads, fauna & flora as well as the abstract. Below we highlight the work of a small selection of artists we are currently loving.
– CLICK HERE FOR WALL ART –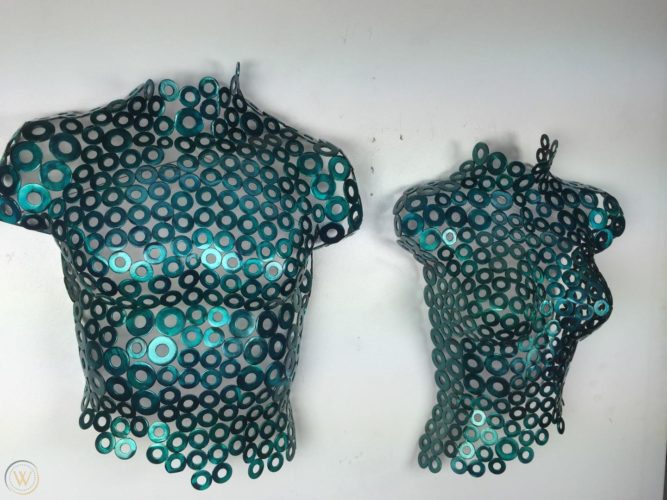 Metal Wall Art Sculptures
David Kracov is a world-famous pop artist most known for his metal sculptures. David is an accomplished artist whose career began as an animator and special effects creator for Disney. He later moved into the sphere of sculptural art. His signature wall art feature hand-cut flowers, hearts, and butterflies. These are hand-cut from sheets of steel and painted in vibrant jewel-like colours. The results are truly breathtaking and have garnered him an army of fans. These include A-list celebrities such as Steven Spielberg.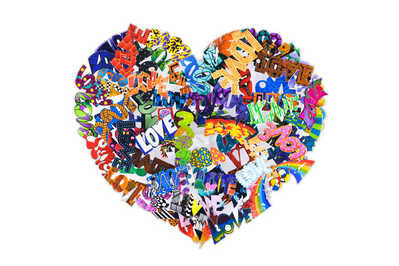 Paper 3D Wall Art Sculptures
Amanda Deadman is a talented artist hailing from Oxfordshire, UK. She has worked with a variety of media. These include photography, glass art and paintings. More recently, Amanda has returned to her 3D roots. She specialises in creating beautiful, intricate and detailed cut watercolour and paper artworks. She loves using watercolour, gold leaf and gold ink, and creates interesting colour graduations.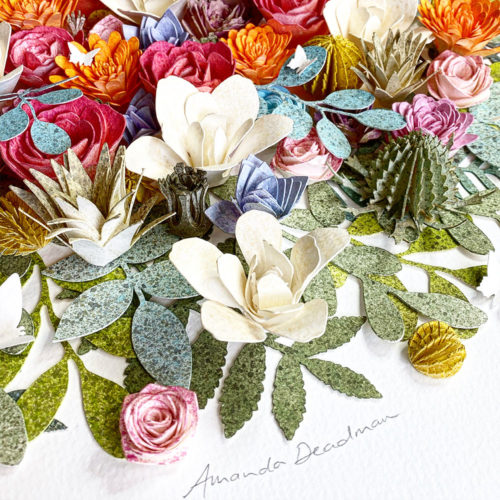 Glass Wall Art Sculptures
Amanda Charles creates beautiful art with kiln-formed glass that has vibrancy, geometry and a very tactile 3D texture. Layers of glass compliment or contrast with each other to create a wonderful divergence between light absorption and reflection. Amanda's modern glass wall art sculptures pay homage to the simplicity of Bauhaus Modernism as well as the complexity of abstract expressionism.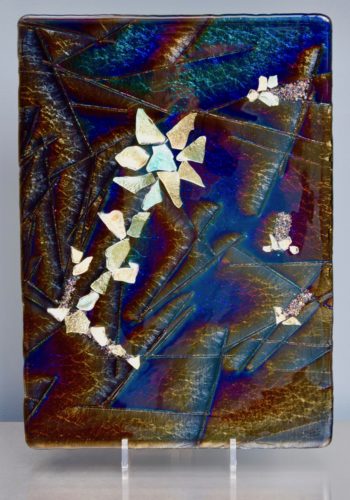 Rebecca Mansbridge creates multi-dimensional pictures and free-standing fused glass art sculptures. They are enchanting and often atmospheric fused glass waves and pictures that capture the magical beauty and tranquillity of the natural world.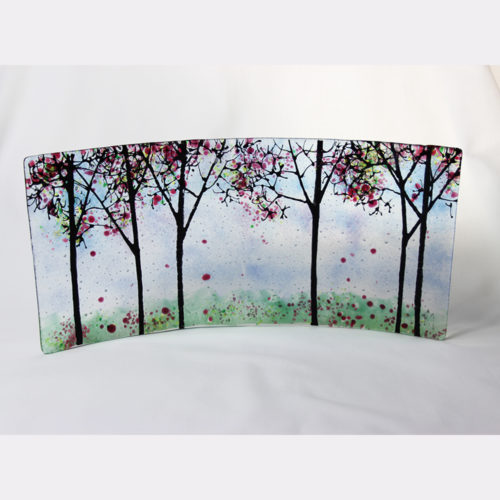 Vandacrafts is comprised of husband and wife team Vanda and Peter Smyth. They create beautifully detailed free-standing glass wall art sculptures inspired by the natural world surrounding their home. Therefore their glass wall art echoes their love of trees, foliage and flowers. Capturing how the countryside changes with the passing of the seasons.